Homoseksual dalam pandangan Sains dan Teologi
Abstract
Permasalahan tentang homoseksualitas dalam kehidupan sudah bukan lagi menjadi hal yang asing di tengah masyarakat. Bahkan, ada dari orang-orang yang menganggap bahwa permasalahan tentang homoseksualitas ini merupakan sebuah hal yang wajar terjadi dalam kehidupan karena dianggap sebagai kejadian biologis yang dipengaruhi oleh faktor genetika. Permasalahan ini bukan hanya terjadi dalam dunia sekuler saja, melainkan juga dalam kekristenan. Dalam tulisan ini, akan mencoba untuk melihat apa yang menjadi pandangan teologi Kristen terhadap mereka yang ada dalam komunitas homoseksualitas ini.
The problem of homosexuality in life is no longer an alien thing in society. Some people think that the problem of homosexuality is a natural thing that occurs in life because it is considered a biological event that is influenced by genetic factors. This problem does not only occur in the secular world but also in Christianity. In this paper, we will try to see Christian theology responds to those in this community of homosexuality.
References
Annemarie Vaccaro, Gerri August, dan Megan S. Kennedy, Safe Spaces: Making Schools and Communities Welcoming to LGBT Youthitle (ABC-CLIO, 2012)
Aziz, Sarifudin, Pendidikan Seks Perspektif Terapi Sufistik Bagi LGBT (Penerbit Ernest, 2017)
Gregg R., Allison, 'Toward a Theology of Human Embodiment', The Southern Baptist Journal of Theology, 13, No 2 (2009)
Gunawan, Agung, 'Pendampingan Pastoral Bagi Kaum Lesbian, Gay, Bisexual Dan Transgender', Jurnal Theologi Aletheia, 18.11 (2016)
Hoekema, Anthony A., Diselamatkan Oleh Anugerah (Surabaya: Momentum, 2010)
Kamitsuka, Margaret D., The Embrace of Eros: Bodies, Desires, and Sexuality in Christianity (Forterss Press, 2010)
Kapic, Kelly M., Embodied Hope: A Theological Mediatation on Pain and Suffering (InterVarsity Press, 2017)
Lumongga Lubis, Namora, Wanita Dan Perkembangan Reproduksinya?: Ditinjau Dari Aspek Fisik Dan PsikologinyaTitle (Kencana, 2016)
Pearcy, Nancy R., Love Thy Body (Baker Books, 2018)
Robertson McQuilkin dan Paul Copan, An Introduction to Biblical Ethics: Walking in the Way of Wisdom (InterVarsity Press, 2014)
Shaw, Ed, Same-Sex Attraction and the Church: Homoseksualitas, Gereja Dan Alkitab (Literatur Perkantas Jatim, 2015)
Sidik Hasan dan Abu Nasma, Let's Talk about Love (Solo: Tiga Serangkai, 2008)
Simanjuntak, Julianto, and Benjamin Swandi Utomo, Menjadi Sesama Bagi LGBT (ANDREW PUBLISHEr, 2020)
Victoria Clarke dkk, Lesbian, Gay, Bisexual, Trans and Queer Psychology: An Introduction (Cambridge University Press, 2010)
Wilandari, Endang, Pedoman Pelayanan Kristen (Jakarta: Scripture Union Indonesia, 2018)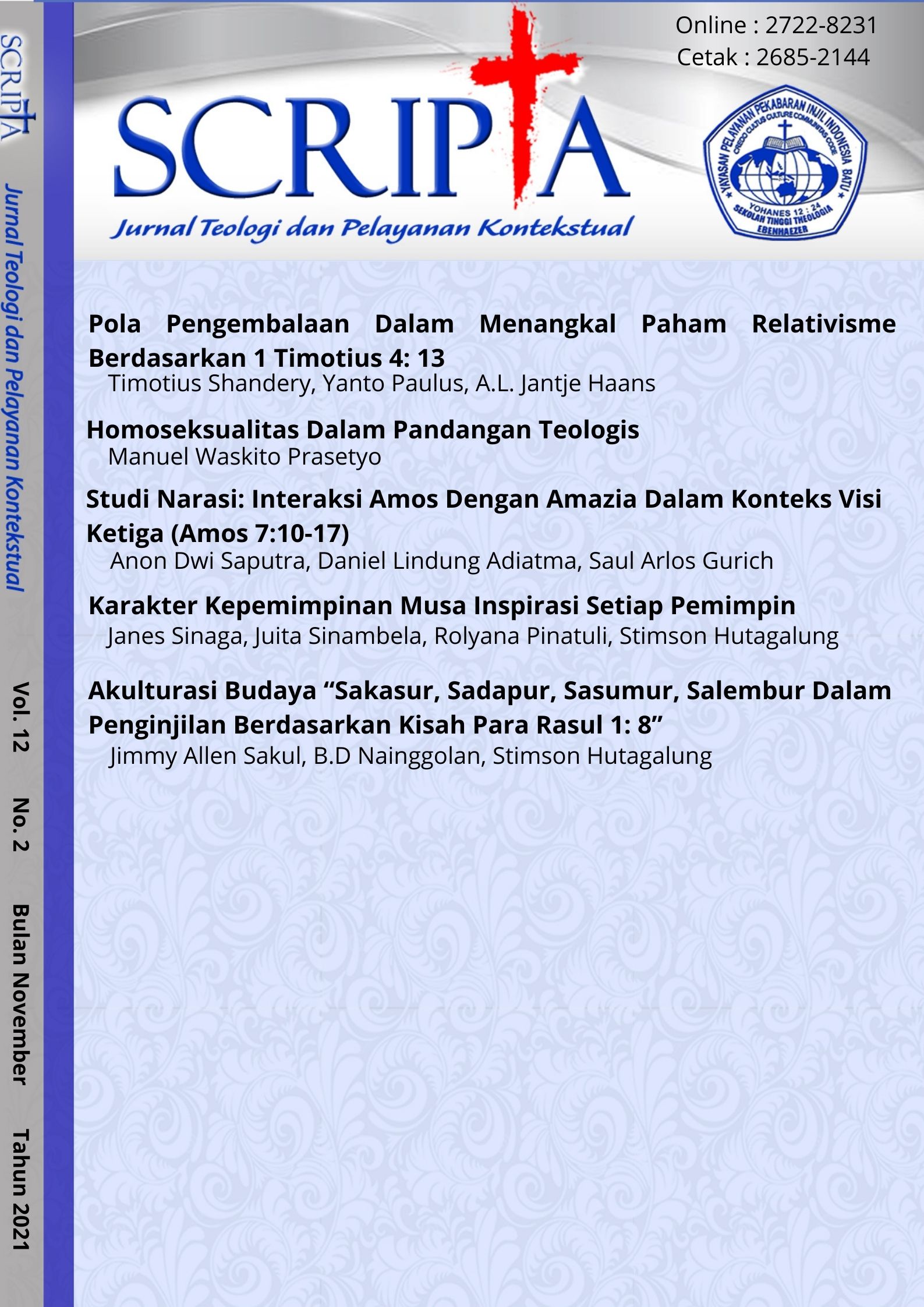 How to Cite
Prasetyo, M. W. (2021). Homoseksual dalam pandangan Sains dan Teologi. SCRIPTA: Jurnal Teologi Dan Pelayanan Kontekstual, 12(No. 2), 94-104. https://doi.org/10.47154/scripta.v12iNo. 2.124
Copyright (c) 2021 28 Nomber 2021
This work is licensed under a Creative Commons Attribution-ShareAlike 4.0 International License.

SCRIPTURA: Jurnal Teologi dan Pelayanan Kontekstual is licensed under a Creative Commons Attribution-ShareAlike 4.0 International License.