Suatu STUDI NARASI: INTERAKSI AMOS DENGAN AMAZIA DALAM KONTEKS VISI KETIGA (AMOS 7:10-17)
Interaksi Amos dan Amazia Dalam Konteks Visi Ketiga (Amos 7:10-17)
Keywords:
The Book of Amos, Narration, Biblical
Abstract
Artikel ini menjelaskan mengenai kajian biblika mengenai narasi interaksi Amos dan Amazia (Amos 7:10-17) dalam serangkaian visi. Penelitian ini menggunakan metode penelitian pendekatan hermeneutik dengan memperhatikan gramatis, historis, dan sastra dalam bentuk genre narasi dalam kitab Amos 7:10-17. Dalam penelitian ini penulis juga melakukan eksegesa dengan memperhatikan historikal, gramatikal dan konstektual. Beberapa penafsir (Campos. Tucker, Wöhrle, Perkins dan lain-lain) hanya menekankan masalah otoritas, legitimasi profetik dan peranan sosial. Namun, narasi ini memiliki hubungan dengan ayat 9 lebih mengarah kepada ancaman kepada Yerobeam dan keluarganya dan menceritakan bagaimana Amos dipaksa untuk mengakhiri pekerjaannya sebagai nabi di Israel. Penolakan terjadi karena nubutan yang disampaikan oleh Amos merugikan dan mengancam keberadaan Yerobeam.
References
Ackroy, Peter R. Kisah Hukuman Di Antara Kitab Raja-Raja Dan Tawarikh? Pendekatan Kepada Amos 7:9-17. Philadelphia: Fortress, 1977.
Barton, John. The Theology of The Book of Amos. Cambridge: Cambridge University Press, 2012.
Boland, B.J. Tafsiran Alkitab Kitab Amos. Jakarta: BPK Gunung Mulia, 1997.
Boyd, Frank M. Kitab Nabi-Nabi Kecil. Malang: Gandum Mas, 2000.
Bullock C. Hassell. Kitab Nabi-Nabi Perjanjian Lama. Malang: Gandum Mas, 2014.
Campos, Martha E. "Structure and Meaning in the Third Vision of Amos (7:7-17)." Journal of Hebrew Scriptures 11 (2011): 7–17.
Finley, Thomas. Joel, Amos and Obadiah: An Exegetical Commentary. United States: Biblical Studies Press, 2013.
Garret, Duanne. Amos A Handbook on The Hebrew Text. Texas: Baylor University Press, 2008.
Hill, Andrew E & John H. Walton. Survei Perjanjian Lama. Malang: Gandum Mas, 2004.
Holladay, William L. A Concise Hebrew and Aramaic Lexicon of the Old Testament. Leiden: Koninklijke Brill NV, 2000.
Lindblom, J. "Amos, Kitab" Dalam The Dictionary of Biblical Imagery. Surabaya: Momentum, 2011.
Mays, J L. Amos: A Commentary. Philadelphia: Westminster, 1969.
Motyer. "Amos" Dalam Tafsiran Alkitab Masa Kini 2. Jakarta: Yayasan Komunikasi Bina Kasih, 1995.
NOBLE, P. "Amos and Amaziah in Context?: Synchronic and Diachronic Approaches to Amos 7-8." The Catholic Biblical Quarterly 60, no. 3 (1998): 423–439.
Osborne, Grant R. "Spiral Hermeneutika," 2017.
Overholt, Thomas W. "Commanding the Prophets: Amos and the Problem of Prophetic Authority." CBQ 41 (1979): 517.
Perkins, Miriam Y. "The Politics of Voice: Reflections on Prophetic Speech as Voices from the Margins", in Christopher A. Rollston (Ed.), Enemies and Friends of the State: Ancient Prophecy in Context." PA 40 (2018): 25–56.
Pratt, Richard L. He Gave Us Stories. Surabaya: Momentum, 2013.
Stuart, Douglas dan Gordon D. Fee. Hermeneutik Menafsirkan Firman Tuhan Dengan Tepat. Malang: Gandum Mas, 2015.
Thomas, McComiskey. "Amos" Dalam The Expositor's Bible Commentary. United States: Zondervan, 1985.
Tucker, Gene M. "Prophetic Authenticity." Interpretation: A Journal of Bible and Theology 27, no. 4 (1973): 423–434.
VanGemerem, Wilem A. Penginterpretasian Kitab Para Nabi. Surabaya: Momentum, 2016.
Waltke, Bruce K., and M. O'Connor. An Introduction to the Hebrew Syntax. Winona Lake: Eisenbrauns, 2004.
Wöhrle, Jacob. "No Future for the Proud Exultant Ones': The Exilic Book of the Four Prophets (Hos., Am., Mic., Zeph.) as a Concept Opposed to the Deuteronomistic History." VT 58 (2008): 608–610.
Wood, Joyce Rilett. Amos in Song and Book Culture. New York: Sheffield Academic Press, 2002.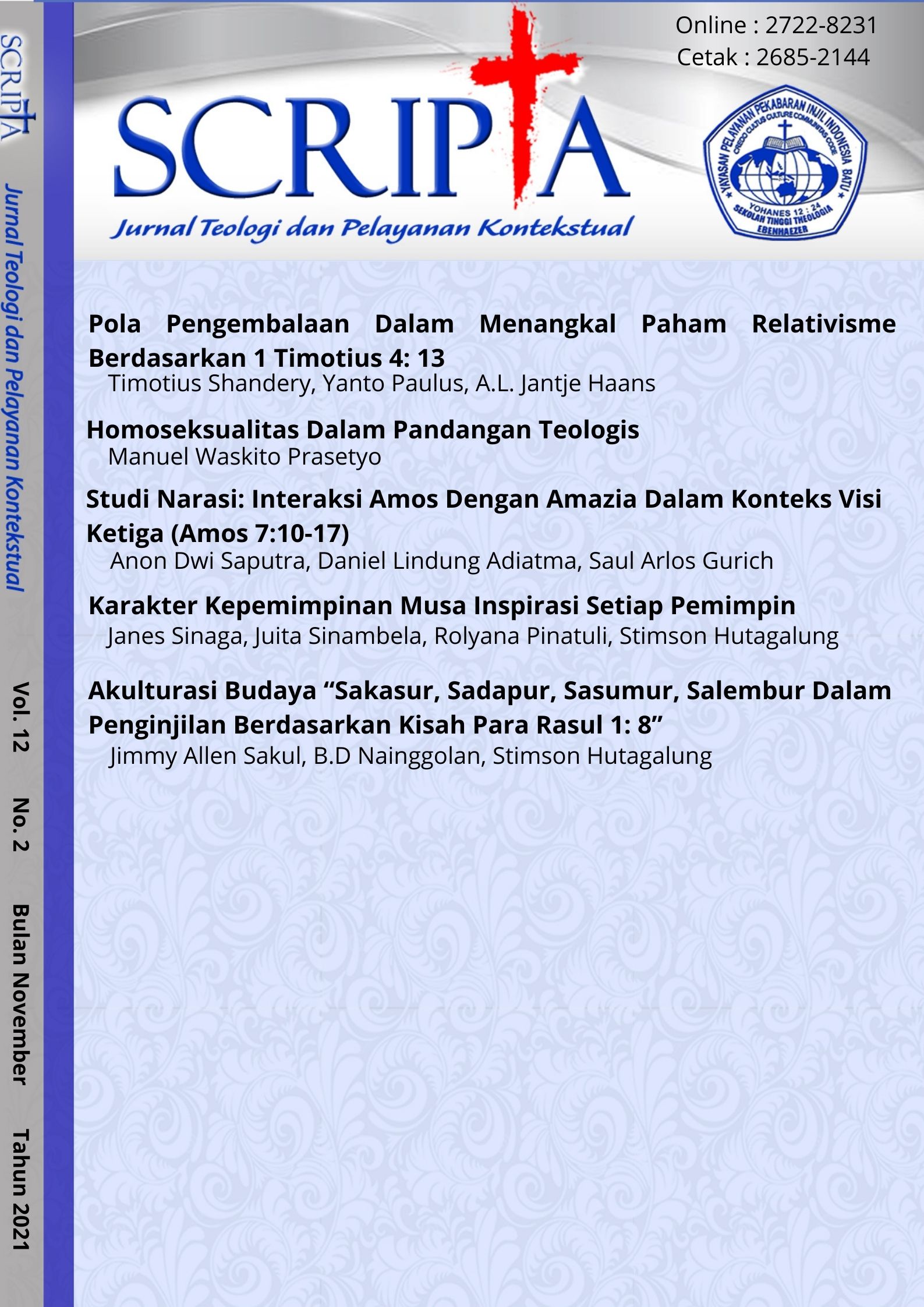 How to Cite
Saputra, A. D., Adiatma, D., & Gurich, S. . (2021). Suatu STUDI NARASI: INTERAKSI AMOS DENGAN AMAZIA DALAM KONTEKS VISI KETIGA (AMOS 7:10-17): Interaksi Amos dan Amazia Dalam Konteks Visi Ketiga (Amos 7:10-17). SCRIPTA: Jurnal Teologi Dan Pelayanan Kontekstual, 12(No. 2), 105-122. https://doi.org/10.47154/scripta.v12iNo. 2.128
Copyright (c) 2021 28 Nomber 2021
This work is licensed under a Creative Commons Attribution-ShareAlike 4.0 International License.

SCRIPTURA: Jurnal Teologi dan Pelayanan Kontekstual is licensed under a Creative Commons Attribution-ShareAlike 4.0 International License.