Makna Dan Nilai Pedagogis-Teologis Dalam Tradisi Waura Watu Pada Masyarakat Anakalang, Sumba Tengah
Keywords:
Tradisi waura watu, Nilai pedagogis-teologis, pandangan masyarakat
Abstract
The title raised in this study is Pedagogical-Theological Meaning in the Waura Watu Tradition in the Anakalang Community, Central Sumba. The purpose of this study was to describe and analyze the dynamics of the perceptions of the Anakalang people and the pedagogical-theological meaning of the waura watu (stone pulling) grave tradition in the Anakalang community, Central Sumba. This type of research is qualitative research with in-depth interview techniques conducted on key informants, namely traditional leaders, traditional practitioners, religious leaders, and the organizers of the stone pulling ritual. The results of the study show that the tradition of pulling gravestones has an important meaning in the traditions of the Sumba people, especially to honor or respect their ancestors. Since hundreds of years ago until now. The grave stones in Anakalang have a function that cannot be replaced until now, even though graves are known to be made of cement. The erection of grave stones and the tradition of stone pulling are integrated into the daily life of the Anakalang people against a background of religious conceptions which are seen as the legacy of their ancestors which must be upheld, because they have pedagogical values, namely mutual cooperation, unity in society, kinship, culture and deep theological values. That is why the variety of stone-pulling culture in Sumba has penetrated the theoretical time period and has continued until now as a tradition.
References
Fortes, Meyer. 2005. Kinship And The Social Order. Somerset: Transaction Publisher.
Handini, Retno. 2017. "Sarkofagus Dan Ritual Sedeka Orong Di Situs Ai Renung, Sumbawa Sarchopagi And Sedeka Orong Ritual At Ai Renung Site, Sumbawa."
———. 2019. "Kubur Batu Sebagai Identitas Diri Masyarakat Sumba: Bukti Keberlanjutan Budaya Megalitik Di Anakalang, Sumba Tengah." Amerta 37(1): 18.
Hutagalung, Stimson, And Bartholomeus Nainggolan. 2021. "Akulturasi Budaya 'Sakasur, Sadapur, Sasumur, Salembur Dalam Penginjilan Berdasarkan Kisah Para Rasul 1: 8.'" Scripta: Jurnal Teologi Dan Pelayanan Kontekstual 12(2).
Iriyanto, Nurachman. 2018. "Tradisi Megalitik Dan Dinamika Keagamaan Di Pulau Ternate Tidore (Makna Pada Masyarakat Pendukungnya)." In Prosiding Seminar Nasional Pakar, , 79–91.
Kaseke, Fany Y M. 2018. "Saat Iman Dan Akal Berbenturan: Alam Semesta Menurut Ajaran Alkitab Dan Evolusionisme." Scripta: Jurnal Teologi Dan Pelayanan Kontekstual 5(1): 49–59.
Kusumawati. 1993. Konsepsi Dalam Penguburan Penganut Marapu Di Sumba. Denpasar: Balai Arkeologi Denpasar.
Luji, Daud Saleh. 2020. "Eksistensi Dan Pewarisan Budaya Tuku Dalam Masyarakat Pulau Ndao (Orang Ndao) Kabupaten Rote Ndao Ntt." Paradigma: Jurnal Kajian Budaya 10(3): 311–18.
Luji, Daud Saleh, Hemi D Bara Pa, And Kristian E Y M Afi. 2021. "A, Keberpihakan Gereja Terhadap Para Penyandang Disabilitas Di Wilayah Teritori Ii Klasis Kupang Tengah Gereja Masehi Injili Di Timor." Ra'ah: Journal Of Pastoral Counseling 1(1): 14–28.
Nome, Mety Selfina, Jonathan Leobisa, And Simon Kasse. 2022. "Persepsi Majelis Jemaat Tentang Ritus Kaus Nono Saeba Nono Di Gmit Jemaat Bethania Oetaman Klasis Amanuban Selatan." Jurnal Teologi & Pelayanan Kerusso 7(2): 32–48.
Pranoto, David Susilo. 2017. "Tinjauan Teologis Konsep Bangsa Israel Tentang Kematian." Manna Rafflesia 4(1): 1–15.
Prof. Dr. Sugiyono. 2018. Metode Penelitian Pendidikan Pendekatan Kuantitatif, Kualitatif, Dan R&D. Cetakan-27. Bandung: Alfabeta.
Soejono, R. P. 1984. Sejarah Nasional Indonesia 1. Jakarta: Balai Pustaka.
Subagya, Rahmad. 1981. Agama Asli Di Indonesia. Jakarta: Sinar Harapan Jakarta.
Wadu, Febryanto, Arjawa, Suku, Bagus, I Gusti Putu, Punia, I Nengah. 2018. "Perubahan Tradisi Kubur Batu Masyarakat Adat Marapu Pada Era Moderenisasi Di Kampung Raja Kecamatan Kambera Kota Waingapu." Jounal Ilmiah Sosiologi (Sorot).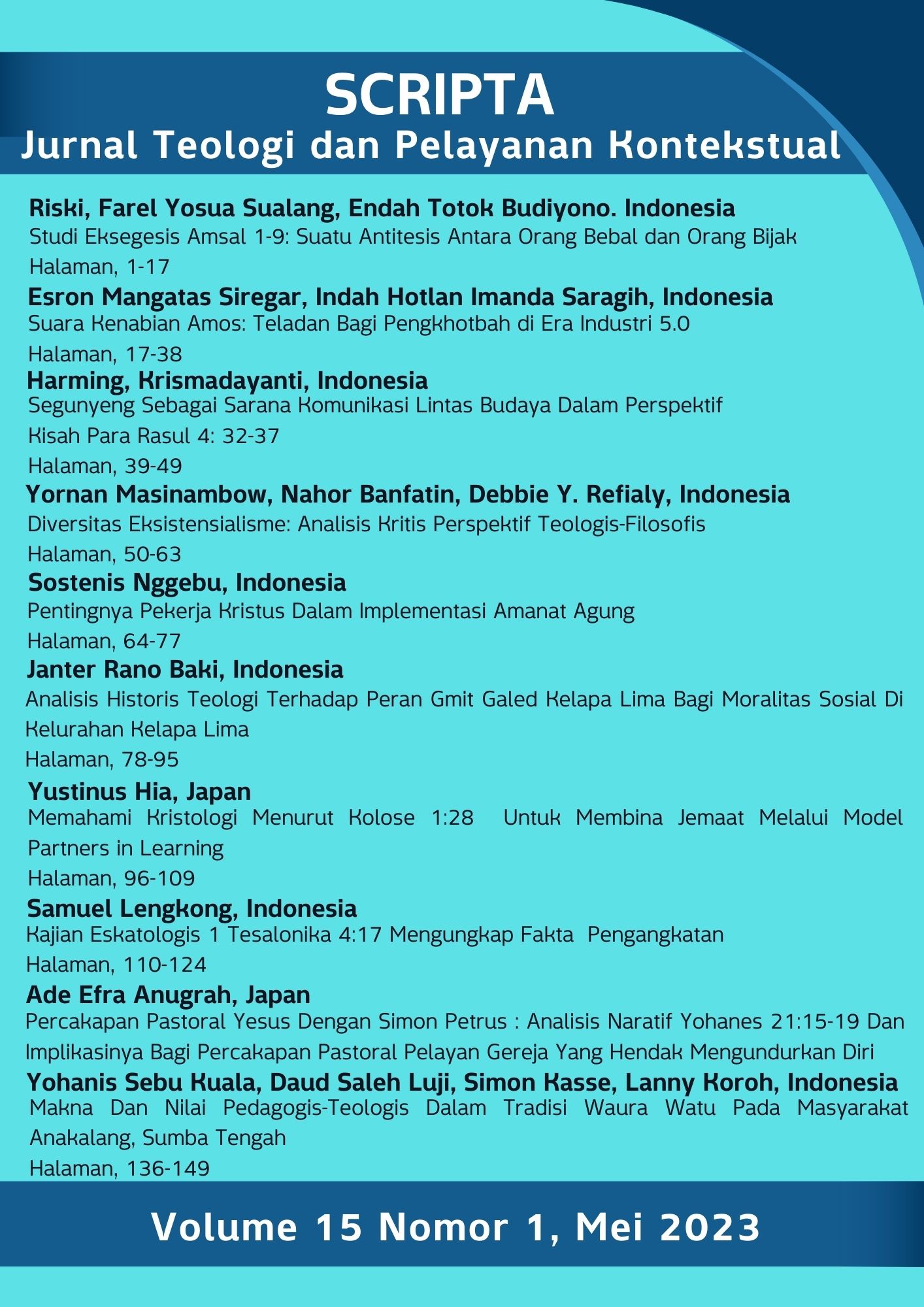 How to Cite
Luji, D. S., Yohanis Sebu Kuala, Simon Kasse, & Lanny Koroh. (2023). Makna Dan Nilai Pedagogis-Teologis Dalam Tradisi Waura Watu Pada Masyarakat Anakalang, Sumba Tengah. SCRIPTA: Jurnal Teologi Dan Pelayanan Kontekstual, 15(1), 136-149. https://doi.org/10.47154/sjtpk.v15i1.175
Copyright (c) 2023 SCRIPTA: Jurnal Teologi dan Pelayanan Kontekstual
This work is licensed under a Creative Commons Attribution 4.0 International License.

SCRIPTURA: Jurnal Teologi dan Pelayanan Kontekstual is licensed under a Creative Commons Attribution-ShareAlike 4.0 International License.