Pembelajaran Pendidikan Agama Kristen Bagi Peserta Didik Non-Kristen di Pendidikan Umum Sukacita
Keywords:
Learning christian education, Joy of public education
Abstract
In the Indonesian context, Christian education is commonly known as Christian Religious Education (PAK). It is generally understood that the implementation of PAK consists of teaching the Christian faith in the context of schools and tertiary institutions. The main goal of Christian Religious Education is to bring students to experience an encounter with Jesus Christ, then
have a good relationship with God and be able to practice the truths of faith in everyday life. From understanding these goals, in fact PAK itself is holistic. Apart from emphasizing the knowledge aspect, other aspects such as spirituality, ethics, morals, and character must be present in the implementation of PAK in schools.
The purpose of this research is to provide an understanding for non-Christian students to remain firm in their faith in the Lord Jesus, as well as to be role models in various aspects of life in the lives of students.
This paper uses a qualitative approach, while the research method used is phenomenology. To obtain the data taken by means of interviews and by studying the literature. Because it uses literature studies, primary and secondary data collection techniques use library techniques and related literature. The data collection method or technique used in this paper is related book literature, through online libraries and literature in the form of e-books and articles/e-journals.
References
Amrullah, Amri. "Sekolah Harus Berikan Pendidikan Agama." Republika.Co.Id. Last modified 2014. Accessed October 13, 2020. https://www.republika.co.id/berita/dunia-islam/islam-nusantara/14/03/29/n37hig-sekolah-harus-berikan-pendidikan-agama.
Anthony, Michael J. Introducing Christian Education: Fondasi Pendidikan Abad 21. Malang: Gandum Mas, 2017.
Beranda Pendidikan Islam. "Latar Belakang Munculnya Undang-Undang Sisdiknas Nomor 20 Tahun 2003." Juragan Berdesa Blogspot.Com. Accessed October 13, 2020. https://juraganberdesa.blogspot.com/2019/06/latar-belakang-munculnya-undang-undang_18.html.
Boiliu, Noh Ibrahim. "Misi Pendidikan Agama Kristen Dan Problem Moralitas Anak." Regula Fidei 1, no. 1 (2016): 115–140.
Cremlin, Lawrence A. American Education: The Metropolitan Experience. New York: Harper and Row, 1988.
Darmaningtyas. "Mencari Sistem Pendidikan Nasional." In Education of Change, edited by Elika Dwi Muwarni, 21–22. Jakarta: BPK Gunung Mulia, 2010.
Debora, Kiki, and Chandra Han. "Pentingnya Peranan Guru Kristen Dalam Membentuk Karakter Siswa Dalam Pendidikan Kristen: Sebuah Kajian Etika Kristen." Journal of Theology and Christian Education 2, no. 1 (2020).
Gea, Y I. "Korelasi Beban Menginjili Dan Kualitas Pengajaran Guru PAK Terhadap Pelaksanaan Amanat Penginjilan Di Lingkungan Sekolah SMTK Nisel." ERESI: Jurnal Teologi dan Pendidikan Kristen 1, no. 1 (2020): 67–81. https://sttia-nisel.ac.id/e-journal/index.php/eresi/article/view/4.
Groome, Thomas H. Pendidikan Agama Kristen. Jakarta: BPK Gunung Mulia, 2011.
Grunlan, Stepen, ed. Christian Perspektif on Sociology. Grand Rapid, Michigan: Zondervan Publishing House, 1982.
Hayadin. "Layanan Pendidikan Agama Sesuai Agama Siswa Di Sekolah." Edukasi: Jurnal Penelitian Pendidikan Agama dan Keagamaan 15, no. 1 (2017): 13–31.
Hidayah, Nur. Masyarakat Multikultural, 2006.
Hutabarat, Binsar A. "Isu Agama Dalam Sisdiknas N0 . 20 Tahun 2003: Demokrasi Pendidikan Nasional." Society Dei 1, no. 1 (2014): 126–160.
Intarti, Esther Rela. "Peran Guru Pendidikan Agama Kristen Sebagai Motivator." Regula Fidei: Jurnal Pendidikan Agama Kristen I, no. 2 (2016).
Knight, George R. Filsafat Dan Pendidikan, Trans. Clara E. Citraningtyas. Jakarta: Universitas Pelita Harapan Press, 2009.
Kosim, Mohammad. "Madrasah Di Indonesia (Pertumbuhan Dan Perkembangan)." Tadris 2, no. 1 (2007): 41–57.
Little, Lawrence. The Objectives of Christian Education. New York: National Council of Churches, 1958.
Miller, Donald E. Story and Context: An Introduction to Christian Education. Nashville: Abingdon Press, 1987.
Muanley, Yonas. "Pendidikan Agama Kristen Di Gereja Dan Sekolah." Dinamika Pendidikan Kristen.Blogspot.Com. Last modified 2019. https://dinamikapendidikankristen.blogspot.com/2019/08/pendidikan-agama-kristen-di-gereja-dan.html.
Nasional, Departemen Pendidikan. Kamus Besar Bahasa Indonesia Edisi Ketiga. Ketiga. Jakarta: Balai Pustaka, 2002.
Nuhamara, Daniel. Pembimbing Pendidikan Agama Kristen. Bandung: Jurnal Info Media, 2007.
Pazmino, Robert W. Foundational Issues in Christian Education. 2nd ed. Grand Rapids: Baker, 1987.
Peters, George. A Biblical Theology of Missions. Chicago: Moody Press, 1972.
Poloni, Lori. "Education: A Public or Privat Goods." Nau.Edu. Last modified 2013. http://nau.edu/PPI/_Forms/Education-A- Public-or-Private-Good/.
Saragih, Albet. "Pengembangan Pendidikan Agama Kristen." Albetsaragih.Blogspot.Com. Last modified 2017. Accessed October 14, 2020. https://albetsaragih.blogspot.com/2017/03/pengembangan-pak.html?m=1.
Setyawan, Davit. "Implementasi Pendidikan Agama Di Sekolah Dan Solusinya." KPAI.Go.Id. Last modified 2014. Accessed October 13, 2020. https://www.kpai.go.id/berita/artikel/implementasi-pendidikan-agama-di-sekolah-dan-solusinya.
Sholeh, Asrorun Ni'am. "Hak Pendidikan Agama Anak." Republika.Co.Id. Last modified 2015. Accessed October 12, 2020. https://www.republika.co.id/berita/koran/opini-koran/15/04/24/nnau4710-hak-pendidikan-agama-anak.
Sidjabat, B.S. Mengajar Secara Profesional. Bandung: Kalam Hidup, 2009.
———. Strategi Pendidikan Kristen. Yogyakarta: ANDI, 2000.
Sidjabat, Binsen S. "Meretas Polarisasi Pendidikan Kristiani: Sebuah Pengantar Tentang Arah Pendidikan Kristiani Di Gereja, Akademia, Dan Ruang Publik." Indonesian Journal of Theology 7/1, no. July (2019): 7–24.
Sihombing, Lotnatigor. Kultus Dan Kultur: Sikap Etis Kristen Terhadap Kebudayaan. Batu: Sekolah Tinggi Theologia "I-3," 1997.
Simanjuntak, Junihot. Filsafat Pendidikan Dan Pendidikan Kristen. Yoyakarta: ANDI, 2017.
Tafonao, Talizaro. "Peran Guru Agama Kristen Dalam Membangun Karakter Siswa Di Era Digital." Jurnal Bijak 2, no. 1 (2018): 1–214.
Telaumbanua, Arozatulo. "Peranan Guru Pendidikan Agama Kristen Dalam Membentuk Karakter Siswa." Jurnal Fidei 1, no. 2 (2018): 219–231.
Tong, Stephen. Arsitek Jiwa II. Surabaya: Momentum, 2008.
Tye, Karen. Basics of Christian Education. Saint Louis: Chalice Press, 2000.
Winardi, Daniel. "Memahami Pendidikan Kristen." Wawasan Dunia Kristen. Last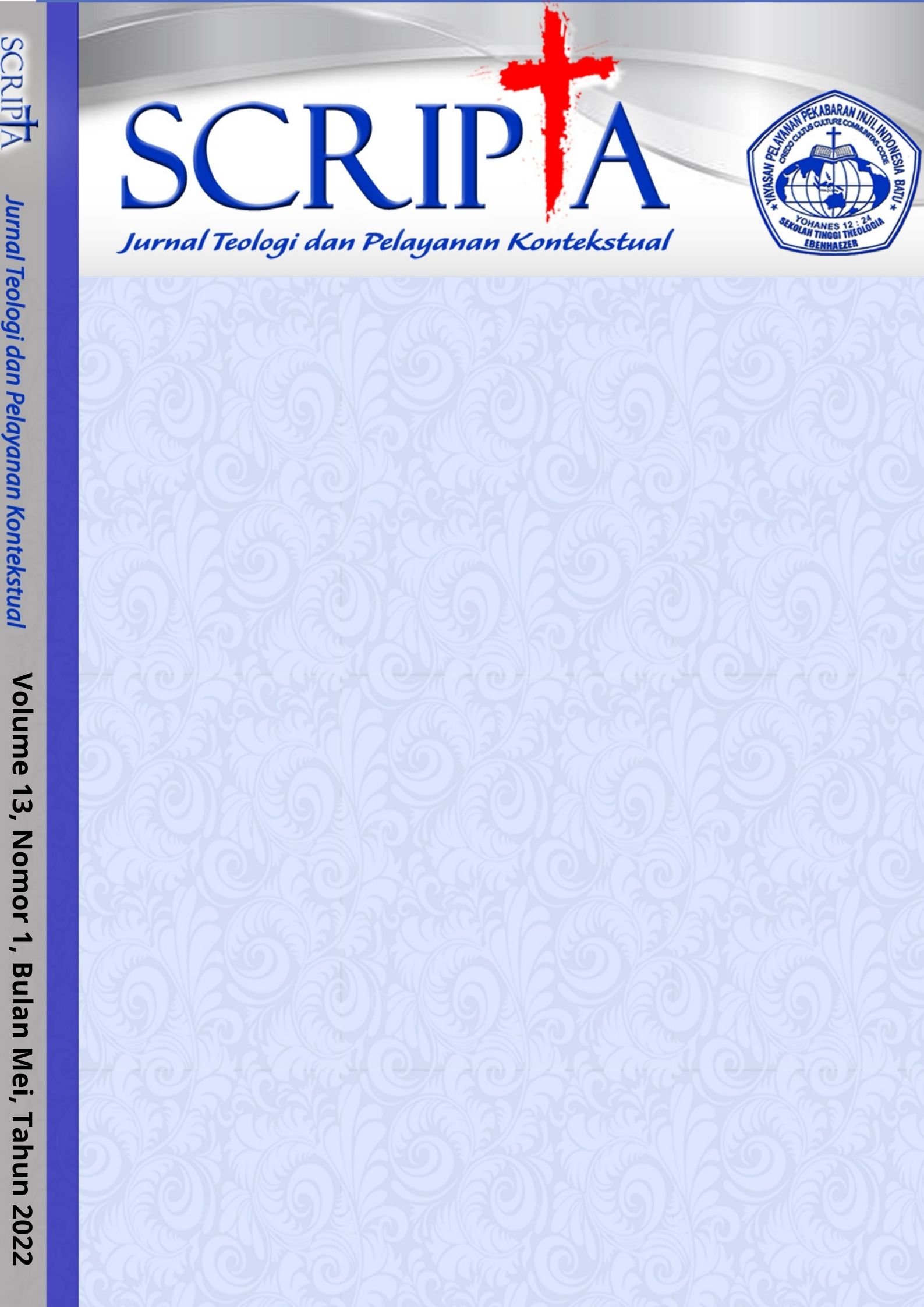 How to Cite
Obet Nego, & Mondolu, D. C. (2022). Pembelajaran Pendidikan Agama Kristen Bagi Peserta Didik Non-Kristen di Pendidikan Umum Sukacita. SCRIPTA: Jurnal Teologi Dan Pelayanan Kontekstual, 14(2), 191-198. Retrieved from https://ejournal.stte.ac.id/index.php/scripta/article/view/189