Peranan Sekolah Minggu Dalam Pertumbuhan Gereja
Abstract
ABSTRAK
       Pelayanan Sekolah Minggu merupakan salah satu faktor yang cukup potensif dalam proses pertumbuhan Gereja. Lebih jauh lagi Sekolah Minggu merupakan wadah yang di pakai untuk mengajar anak-anak sesuai dengan pertumbuhan usia mereka. Pelayanan Sekolah Minggu membawa pengaruh yang positif terhadap pertumbuhan Gereja, karena anak-anak Sekolah Minggu akan menjadi generasi penerus Gereja yang melanjutkan tugas dan tanggung jawab Gereja sebagai saksi Kristus di tengah-tengah dunia yang penuh dengan tantangan ini. Tantangan yang akan di hadapi oleh Gereja pada masa yang akan datang semakin banyak di karenakan perubahan zaman dunia modern yang sudah tidak lagi mementingkan ajaran agama.
ABSTRACT
        Sunday School service is one of the factors that is quite potential in the process of Church growth. Furthermore, Sunday School is a place that is used to teach children according to their age growth. Sunday School services have a positive influence on the growth of the Church, because Sunday School children will become the next generation of the Church who continue the Church's duties and responsibilities as witnesses of Christ in the midst of this challenging world. The challenges that will be faced by the Church in the future will be more and more due to the changes in the modern world era that are no longer concerned with religious teachings.
References
Barnette , J. N.,
Gereja Yang Berkembang Melalui Sekolah Minggu, Bandung: LBB
Benson,Clarence H.,
Sunday School Succes, Illionis: Evangelical Teacher Training service Association
Boyd, W.,
Hystory Of Western Education, Newyork: Barnes & Noble
Boehlke, Robert R.,
Sejarah Perkembangan Pikiran dan Praktek Pendidikan Agama Kristen, Jakarta: BPK Gunung Mulia
Botterweck,G. Johanes.,
Theological dictionary of the Old Testament Vol V, Grand Rapids: William B. Edmans Publishing Company
Dresselhaus, Richard L.,
Penginjilan di Sekolah Minggu Malang: Gandum Mas,
Dyck, Ruth Laufer & Anni.,
Pedoman Pelayanan anak 1, Batu: YPPII-Departemen Pelayanan Anak dan Remaja
Dyck, Ruth Laufer & Anni.,
Pedoman Pelayanan Anak2, Batu: YPPII-Departemen Pelayanan Anak dan Remaja
Eavey, C.B.,
History of Christian Education, Chicago: Moody Press
Gangel, Kenneth O.,
Membina Pemimpin Pendidikan Kristen, Malang: Gandum Mas
Gresham, Eleanor Daniel, John W Wade, Charles.,
Introduction to Christian Education, Ohio: The Standar Publishing, Interchurch and Parachurch Organization By Charles Gresham
Halim, Makmur.,
Gereja di tengah-tengah Perubahan Dunia, Malang: Gandum Mas,
Halim, Makmur.,
Beri Aku Harapan, Kursus Intensif Guru Sekolah Minggu dan Pemerhati Anak, Batu: Gandum Mas Journal Pelita Zaman Vol II, 1966 Bandung: Yayasan Pengembangan Pelayanan Kristen Pelita Zaman
Kadarmanto, Ruth S.,
Tuntunlah Kejalan Yang Benar, Panduan Mengajar Anak Di Jemaat, (Jakarta: Bpk Gunung Mulia, Kamus Besar Bahasa Indonesia Edisi II,…, 571
Kemp, L. F. Mars & M. E.,
kursus untuk sekolah minggu, Bandung: The Chritian & Missinary Alliance
Kibourn, Phyllis (Editor).,
Children In Crisis: A New Commitmen, Batu: YPPII-Departemen Pelayanan Anak dan Remaja,
L,Cross, F.,
The Oxford Dictionary Of The Christian Chruch, London: Oxford University Press,
Maitimoe,
Asal Mula Dan Perkembangan Dan Pekerdjaan Sekolah Minggu Dan Kebaktian Anak-Anak, Djakarta: Dewan Geredja-Geredja Di Indonesia
Meir, Paul D.,
Membesarkan Anak dan Pengembangan Watak Kristen, Surabaya: Yakin
Mike,Beaumont .,
Ensiklopedi Alkitab Masa Kini Jilid I, Jakarta: Yayasan Komunikasi Bina/OMF
Naipospos, P. S.,
Penuntun Sekolah Minggu, Jakarta: BPK Gunung Mulia,
Philip Babcock an the Merriam Webster. Ed,
Webster' Third New International Dictionary, Massachusetts: G & C Merriam Company Publisher,
Piland,Harry M.,
Perkembangan Gereja dan Penginjilan Melalui Sekolah Minggu, Bandung: LLB: Lembaga Literatur Baptis, 1983), 15
Richard,Lawrence O.,
ATheology Of Children's Ministry, (Michigan: The Zondervan Corporation Grand Rapids,
Riggs, Ralph M.,
Sekolah Minggu Yang Behasil, Malang; Gandum Mas,
Sastrosupono, M. Suprihadi.,
Tentang Mengajar Di Sekolah Minggu, Semarang: Satya wacana,
Setiawan, Mary Go.,
Pertumbuhan Mengajar, Bandung: Yayasan Kalam Hidup
Strong, James,
The New Strong's Exhaustive Concordance Of The Bible, Amerika: Thomas Nelson Publisher,
Tanya,Eli.,
Gereja dan Pendidikan Agama Kristen, Cipanas: Sekolah Tinggi Theologia Cipanas
Tregelles, Samuel Prideaux.,
Genesius Hebrew And Lexicon To The Old Testament Scripture, (Michigan: Baker Book House,
Tong, Stephen.,
Arsitek Jiwa 2, Jakarta: Lembaga Reformed Injili Indonesia,
Towns,Elmer.,
A History Of Religious Educators, Grand Rapids: Baker Books,
Warren, Rick.,
Pertumbuhan Gereja Masa Kini, Malang: Gandum Mas,
Wilson,Bill.,
Anak Siapakah Ini, Jakarta: Yayasan Pekabaran Injil
Wilson, William.,
New Wilson Old Testament Word Studies, Grand rapids: Kregel Publication,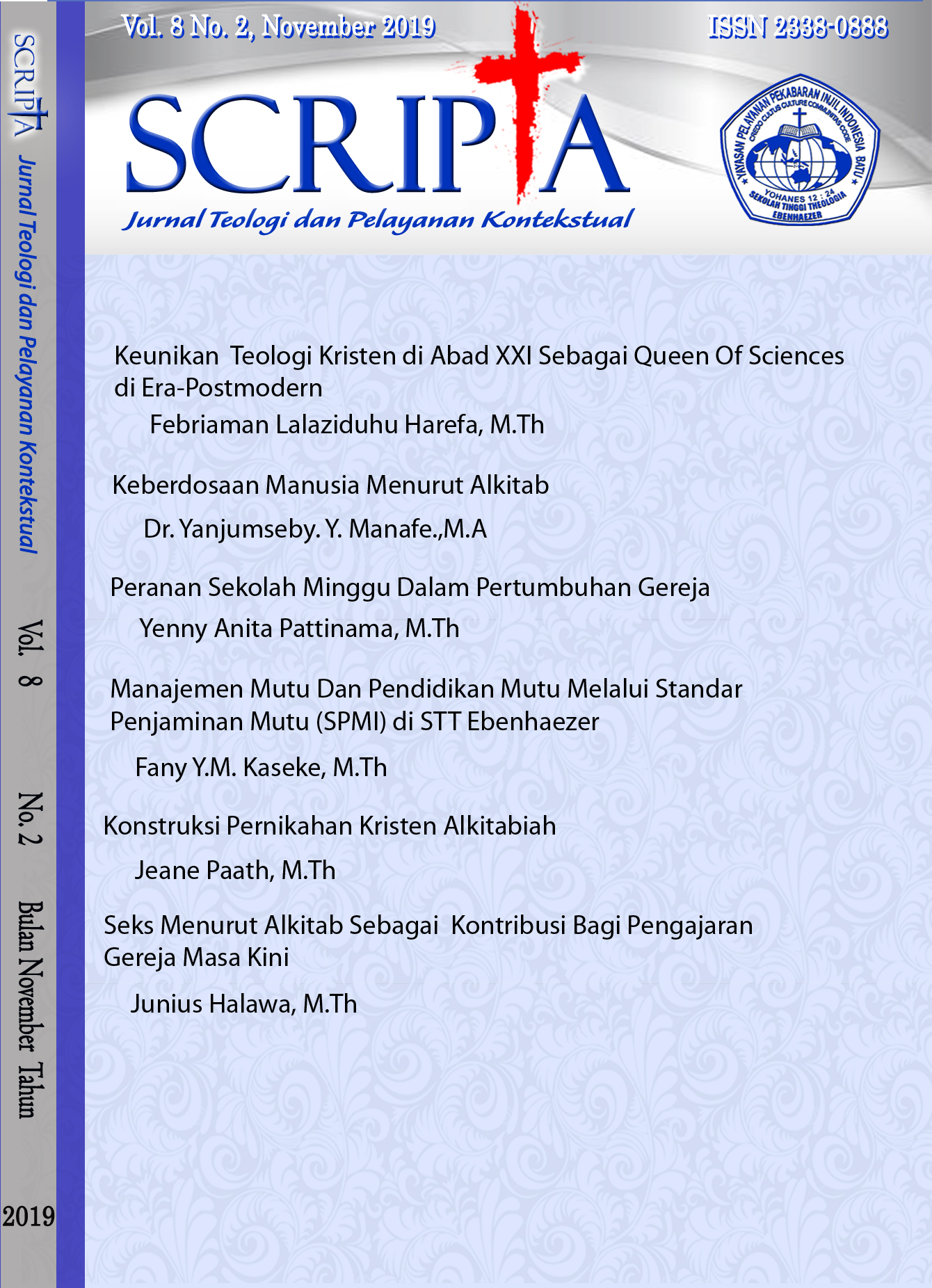 How to Cite
Pattinama, Y. A. (2020). Peranan Sekolah Minggu Dalam Pertumbuhan Gereja. SCRIPTA: Jurnal Teologi Dan Pelayanan Kontekstual, 8(2), 132-151. https://doi.org/10.47154/scripta.v8i2.68
Copyright (c) 2019 28-11-2019
This work is licensed under a Creative Commons Attribution-ShareAlike 4.0 International License.

SCRIPTURA: Jurnal Teologi dan Pelayanan Kontekstual is licensed under a Creative Commons Attribution-ShareAlike 4.0 International License.